What if your Biggest Challenges, Struggles, and Heartbreaks Were Actually Preparing You For Your Greatest Transformation…and Contribution to the World?
On June 23rd, my co-authored book launched in the #1 Internationally Best-Selling Pebbles in the Pond Wave Four: Transforming the World One Person at a Time. My chapter is called Put an End to Running on Empty: Bringing Back Balance For Over-Givers. My passion is helping Over-Givers (stressed healing professionals, caregivers and harried moms) bring back balance into their lives through creating Living Dream Gardens which are manifestation gardens.
Those of us who are Over-Givers prioritize everyone else first. I learned this the hard way after years of running on empty, pushing myself into exhaustion and finally injury. Relentless pain and emergency back surgery taught me that I needed to take care of myself first, that I had to matter as much as those I serve. My chapter in Pebbles in the Pond Wave Four details my journey and offers the hope that you, too can learn to live life more joyfully, manifesting your own dreams as well as cheerleading and helping heal others.
My Living Dream Gardens are the best way I've found (after years of running on empty) to anchor and ground each morning by connecting me back to the joy of Nature and Spirit. I then refocus on my own dreams and goals as a priority before I set out into the world to help others. I now am serving from a place of full, not empty and am manifesting miracles! I know that having your own Living Dream Garden can do this for you as well. I hope you will check out Pebbles in the Pond Wave Four and contact me about creating your own Garden. There's a link in the book to a video visualization to start you on manifesting the life of your dreams.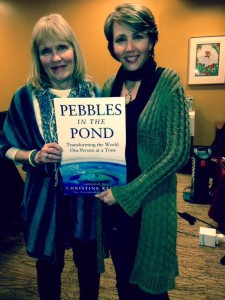 The link for the print version is here

Please email me at helenmsherryauthor@icloud.com if you would like me to send you a personalized autographed copy

https://christinekloser.wistia.com/medias/qoe9afblgy
Click here to see the movie trailer for Pebbles in the Pond Wave Four and hear my fellow authors and myself tell you why this is your time to shine, putting the past to rest and moving into the life you were born to live, beautiful, brilliant and free.