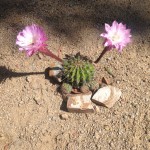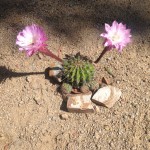 Sometimes we're so busy and preoccupied that we don't take time to look closely at the beauty around us. I was amazed to come out in the early morning and find these luscious blooms had emerged overnight on a prickly cactus.
I smiled and rushed by, going down to feed my insistently neighing horse in the corral below. Hurrying back up, with my To Do's chanting in my head, I almost didn't stoop to peer more closely. Can you see the bee in the flower on the left?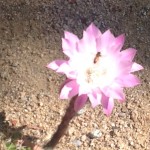 Suppose I didn't look… or look again. Here's the same view a day later.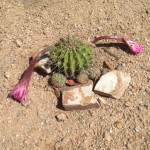 Beauty is ephemeral. We have to take the time to nurture our souls in small ways. Feeding our souls nurtures our creativity and helps us keep an upbeat attitude despite rushing and stress. Take time to live and grow and thrive so that you manifest your dreams.