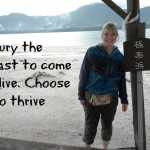 Choose to Thrive! Let Go of the Past to Come Alive.
This photo was taken of me at Ozorezan in Japan. Ozorezan is the Gateway to Hell according to the Buddhists, and a sacred shrine in Northern Aomori Prefecture where souls must cross the river to reach the afterlife.
On this October day I came with a tour from Misawa Air Base where I was working as a mental health consultant to military families. Unexpected rain began to pour as we drove up, and everyone scattered for cover. I was quickly drenched as I passed through the entrance. The young Japanese tour guide and I strolled through the site, and she explained the meaning of the different areas as we walked. Despite the rain, the stench of sulphur permeated the air, and we crunched on volcanic grit, alert to the possibility of pit vipers. Truly it felt like we were walking through a living hell.
She explained about Mizuko Jizo, the kindly monk who helps dead babies and children to reincarnate successfully. Everywhere you look, there are statues of Mizuko Jizo, and piles of pebbles and pinwheels which grieving parents leave to help their children to cross the river and reincarnate safely. The young guide and I spoke about our own heavy hearts. My mother had died nine months earlier, and her father had recently passed. She told me I could erect my own little pile of stones for my mother on the beach of Lake Usori to help her rebirth.
Even though we both were soaking wet, we took time to erect our own piles for our beloved parents. I whispered words of love to my mom and amazingly the sun came out. Pure magic. We took photos of each other, and she kept remarking on how unusual that the sun had blessed us just as we finished our offerings.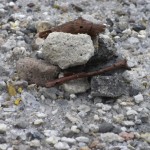 This is my little beach creation for my mother. You don't have to be Buddhist to recognize the power of love, and the hopes that those we care about will do well after they depart. I grew up a good Irish Catholic girl who sat in the back of my parish church on All Soul's Day, saying a formula of prayers meant to release souls from Purgatory. Not so different.
Whatever is weighing down your heart as you read these words, choose to let go with love. Only then is it possible to feel alive and begin to thrive. You can create your own ceremony of letting go, perhaps writing a name in the sand and letting the tide carry it away. You can write a letter to someone who has hurt you and barbecue it, letting the wind carry your pain away. Please let me know what or of whom you are choosing to let go, and the ceremony you create. I will always carry my mother in my heart and memories. What I let go of that day was my heavy heart.

Below is a YouTube visit to Ozorezan:

If you want a more intense look at Ozorezan, six minutes complete with creepy music, click this YouTube link:

For more info on this fascinating site, click this link below:
http://www.tofugu.com/2012/10/01/osorezan-the-gateway-to-hell-lies-in-japan/
Click on the link below for another interesting article about the area:
http://zoomingjapan.com/travel/shimokita-peninsula-mt-osore/