Living Dream Gardens
Manifest Your Dreams! Create a Living Dream Garden With Helen

Helen M. Sherry, Ph.D., LMFT
Let's envision your Dream Garden as life-size, a place where you could walk and dream. What you are creating is sacred space for your dreams to grow. First we'll imagine, and then we'll build.
Welcome! I am a psychotherapist/intuitive who guides people to build their perfect Living Dream Gardens. The Law of Attraction tells us that like attracts like. A Dream Garden is a three-dimensional living and growing manifestation of your ideal life to rapidly attract it into reality.
The Dream Garden starts with succulents and rocks that you infuse with your intention. You choose the crystals and figurines that support your Dream. It's a Vision Board that lives and grows. Sacred space for your dreams. As you tend it, you nurture your dreams. It takes little care, yet keeps you focused on what you want in your life. With that focus and clarity, your dreams can manifest quickly.
I have been a licensed psychotherapist since 1980. My passion is my Living Dream Gardens that blend my knowledge of the principles of manifestation with a lifetime of studies in psychology and spirituality. They prayerfully incorporate Native American wisdom and medicine animals, deity figurines from many religious traditions, and the spiritual value and energy of different crystals with the beauty of succulents into miniature worlds adapted from Sandplay Therapy (studied in Switzerland with Dora Kalff, its creator.) I work with individuals and groups to create their perfect Ling Dream Gardens to manifest the life of their dreams. A Dream Garden becomes like an altar for sacred dream space. I have created a ritual that includes visualization, written affirmations, aromatherapy and candles for connecting with Spirit.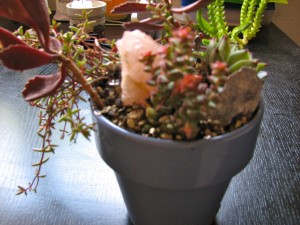 Here's what people are saying about Helen's Living Dream Gardens…
"Helen's dream gardens are perfect for helping you manifest your dreams. As you tend them each day, your intentions grow in a very tangible manner.
They focus your thoughts and help you partner with the creative energies of spirit and nature with fun, delight and joy. Tend your garden and watch your dreams grow day by day!"
Dr. Christopher Dilts, International Angel Guide, http://www.askanangel.com
"Help Manifest Your Dreams!
Caring for your Dream Garden helps keep you focused on your Dream or Desires, and the Love emanating back from the Garden itself inspires you even more!"
Morgine Jurdan, Animal Communicator, http://www.CommunicationsWithLove.com
"Helen's Living Dream Gardens are a spiritual pathway for people today to connect to their souls and manifest the qualities they most want in their lives. I recommend owning one and tending to your soul garden right away!"
Diane Le Gro, Owner/Founder of Speaking Success International, http://www.speakingsuccessinternational.com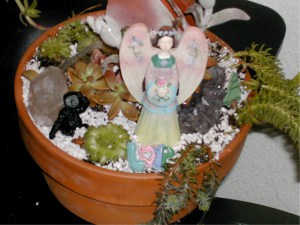 "I find it very peaceful and calming." Pam Richards, Therapeutic Body Center, Grover Beach, CA
"Having my garden by my bed, I sleep more peacefully. I feel so much more energy in the morning." Eloisa Mesa, hardworking mother and housecleaner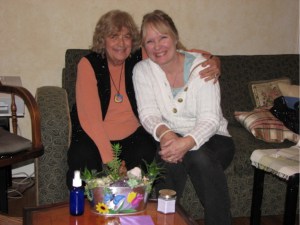 "Each time I look at my garden, I feel warmth in my heart and it makes me feel happy!" Dr. Violet Oaklander, Internationally known child psychotherapist and trainer, author of Windows to Our Children
"It's my vision. I look at it all the time. It gives me hope, trust, faith, and something to look forward to. I know that everything is going to unfold that's in my Garden." Gloria Diaz, Healer, Mother, and wife
"Helen Sherry, PhD. is a gifted healer. She has been assisting others for many years, combining traditional counseling with her Intuitive guidance. Recently, she was presented with the vision of creating a tool to assist in the manifestation of our dreams. We all have a vision of the life we desire, filled with positive intentions and dreams. Helen has created (through the guidance of spirit) 'Living Dream Gardens' to assist us.
Imagine taking your dreams and literally planting them in fertile soil. We can speed the growth with essential spiritual elements, such as crystals and Angel figurines. By watering and tending our Dream Garden, the sacred space that holds our dreams, we focus our energy and vision to create our dreams and desires with the wondrous help of Source. We create and set our intentions, and allow Spirit/Universe/Source to work on how they will come to fruition.
How Powerful to use living energy as our manifestation tool!
These beautiful 'Living Dream Gardens' are created from a foundation garden, which you personalize through Helen's guidance. You choose elements that resonate with your energy and dreams.
Thank you Helen for the gift of powerful manifestation through the 'Living Dream Gardens.'"
Christina Menear, Intuitive Life Coach
http://www.intuitiveassets.com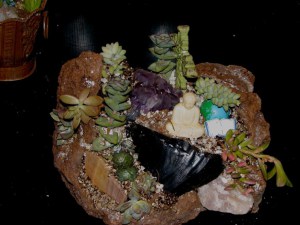 "What my Living Dream Garden has done for me is to keep me focused. I could be having a great day and I will walk by my Garden and it will humble me to keep going on my path. The same when I hit a bump on the road, I intentionally go to my Garden and scoop up some of the energy to also keep me going on my path. Having your own Living Dream Garden is like having your Life Purpose as a living energy that you nurture and take care of, and that you go back to so that you keep moving forward with the energy it gives back to support you. A true blessing that you co-create."
Al Diaz, internationally acclaimed author of The Titus Concept
http://www.thetitusconcept.com
To learn more about building your own Living Dream Garden, contact Helen Sherry at cqhs2@me.com