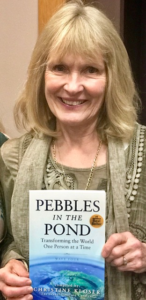 Helen M. Sherry Ph.D. is a licensed Marriage, Family and Child Therapist whose passion is helping people heal from traumas and pain into joyful lives. She is a gifted intuitive who has always had a strong affinity to all things living. The creator of Living Dream Gardens (a living Vision Board), she synergistically blends Native American wisdom and medicine animals, deity figurines from many religious traditions, sacred crystals and life-giving succulents to create personalized works of art that help people rapidly manifest their dreams. Her Dream Gardens have been used to help complete a book, focus on improving health, attracting abundance, or healing from grief by creating a Memory Garden.
Her passion is helping Over-Givers (stressed healing professionals, caregivers and harried single moms) bring back balance into their lives. Helen says, "Those of us who are Over-Givers prioritize everyone else first. I learned this the hard way after years of running on empty, pushing myself into exhaustion and finally injury. Relentless pain and emergency back surgery taught me that I needed to take care of myself first, that I had to matter as much as those I serve. My Living Dream Gardens anchor and ground me now each morning by connecting me to Nature and Spirit, refocusing me on my own dreams and goals as a priority. I am serving from a place of full, not empty and am manifesting miracles! I know that having your own Living Dream Garden can do this for you as well."
As well as intuitively creating these manifestation Gardens with her clients, she offers retreats and coaching so that individuals learn to access their own intuition.
She's a licensed psychotherapist (CA MFT 15632) who maintains a limited practice in Pismo Beach, CA. and has been a counselor for military families around the globe. Helen is the co-author of the number one internationally best-selling book, Pebbles in the Pond Wave Four: Transforming the World One Person at a Time. Her chapter is entitled Put an End to running on Empty: Bringing Back Balance For Over-Givers. Her children's book that helps a young child who loses a parent to war, Always and Forever: Angel's Ladybugs, is also an iPad interactive app.
On the personal level, she is a Native American Quested Elder and Keeper of Women's Waterbowl Ceremonies in the path of the Divine Feminine. She says she luckily found her best friend and husband, Kiwi Colin Quennell, by "journeying across the world to Yugoslavia, when there was one." They've been married for over 30 years, and she is the mother of two grown sons, Colin Edward and Bryan who delight her soul in very different ways.
For more information, email her at helenmsherryauthor@icloud.com or call (805) 489-7131.